I went to Gwalior on the 27th to get counseling for the tour guide training program. I reached Gwalior at 10.30 AM as my train was delayed by 2 hours. Counseling was to start at 3pm so I had almost 4 hours to visit the city. I had already heard about Gwalior fort so I took an auto and reached it at about 11.00pm. Gwalior fort was huge, I had already been to a few forts but I had never seen any fort like this one. It was situated 300 feet up on a hill. There was an inclined road starting at the entrance gate to reach at the fort.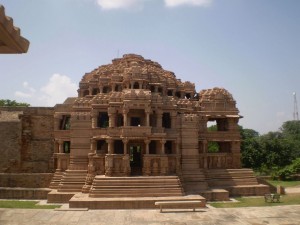 I think the road was almost 2 kilometers long. There was a beautiful Mansingh Palace, Sas-Bahu Temple, Sikh gurudvara and a Teli temple. Since I had 3 hours left when I reached there, I thought that I would be able to visit the whole fort, but I was wrong. This fort was huge and I could not visit all the places inside it. I was looking for a guide book or some information about the fort but there was no assistance for tourists. There was a ticket counter at the entrance gate where it was written that ticket costs only twenty paise. We stopped using twenty paise coin about seven-eight years ago, so it seems like they have not updated anything since then. There was only one coffee shop in this whole campus.
They organize a sound and light show every evening that I really wanted to attend but I could not because I did not have enough time. I liked Sas-Bahu temple a lot. There were lots of carvings on the walls of it. I was amazed to see those carvings which were made about 500 years ago. I saw a lot of Sikhs in Gwalior. There was a group of young Sikh guys inside the fort who came to me and asked to take their photo. After taking the photo, the youngest guy, only thirteen- fourteen years old, came to me and said that I must begin waking up early in the morning. I was shocked to see that how he knew that I don't sleep in the nights and wake up so late.
Then he said that my friends are not good, they never feed me and always look to get fed by me (Hindi expression when somebody wants to loot you). As I heard this, I immediately realized that he was also a looter. He was also telling the same story that all the looter astrologers say. Then he asked me for money, he wanted fifty rupees. I said I don't want to pay him, then he asked for twenty five, then ten, five and finally he wanted only two rupees but I didn't give him any money. He was a young crazy looter person.
After Sas-Bahu temple I moved to Man Singh Palace which was built by Raja Man Singh Tomar in the year 1508. Later Mughals won this palace and used it as a Sahi Jail (sounds like a jail for important people like kings). This was the only palace I had ever seen that had colored tiles on the wall of it, it was beautiful. A few people met me asking if I would like to have a guide but I did not take them as I had only thirty minutes left but now I think it was worth taking them. This palace was very confusing like Bada Imambada of Lucknow. Finally my time was over and I had to leave for the counseling place.
As I reached at the Institute, I saw a lot of people over thirty five years old and a few of them were over 50. I thought they were parents of the students but I was wrong, they were they guys who had qualified the exam. A few people told me that these old guys have been working in the tourist sector for years. I think they did not need to go through any training because they were already working in this sector for years. But they are often stopped by government guides and ASI (Archaeological Survey of India) officers at monuments, therefore they also wanted a license.
The institute was very nice, very fancy. It had a computer lab, library, auditorium and a lush green apartment. All the rooms and auditorium were air conditioned. The counseling was divided in two parts- document verification and registration. The registration process was going on in auditorium but I had to get my documents verified first in a different room. There were three employees of the institute checking all the documents of the students. I had to show them attested Xerox copies of all the certificates along with the original one.
After completing this process, they gave me a form where I had to write my name, roll number, marks obtained in the exam, choice of batch, and center. They told me to fill up that form, and go to the counseling hall. I wanted to get training at the New Delhi center in the second batch but there were only thirty seats for New Delhi center, which were already taken by other students. So, I got selected for the second batch training at the Gwalior center. They charged Rs. 2000 as a training fee which includes library, computer lab and teaching fee as well.
My training will start on the 5th of January and will last for 45 days. After this period there will be a one week tour. After that I will be given a city or a tourist region and I will have to write a report about the history and monument situated in that city. I will get ten weeks to complete the report. After writing the report they will organize an exam and the students who qualify on that exam will go through an interview. After passing the interview, the tour guide license will be issued.
It was 5o' clock now and my train to go back Benares was at 8:40 so I left the Institute and walked to the Railway station. The Railway station was about 5 kilometers away from the institute but I decided to go on foot so that I could see the city. Gwalior seemed like nice city; obviously it was not as big as Benares but it was much more organized. The traffic was nicer than Benares; housing seemed better; there were gardens; trees; I think it was more like other big cities of India. Benares is completely different from Gwalior.
I met a Benares guy on the train who had also qualified on the exam. He has been working as an escort with Japanese tourists for the past 2-3 years, but he was not happy working with he said that Japanese don't give money. But now he was so happy that he will get a license, and he said that he will not work with Japanese people anymore. He wanted to work with either American, British or some other rich country's people. He said that Spanish are also like Japanese people, dont want to give money.

Spain is the eighth largest economy of the world and the fifth largest of Europe, and they sound like nice people. Japan is also a very rich country but he didn't like either of them. He said that over 75% of Japanese- speaking government guides in Delhi can't read or write Japanese. They learnt language by speaking only and later they qualified on the exam, which happens only in English. But it will not be possible by next time, because next time exams will be conducted in different languages for different language speaking people.
It was a short but very busy and successful trip. I completed the counseling process, I visited Gwalior fort, and I took a walk in city. It was nice, so I think I will enjoy my time in Gwalior during the training period.